In the new age we live in, technology is continuously developing, and we have difficulty keeping up with it. We face new challenges every day in our daily and business life, and we need new solutions for these challenges. Companies are trying to find more innovative solutions to stay competitive so they can remain productive. Digital transformation is nearly on all industrial businesses' agendas. This happens because of the importance to be a dynamic member of Industry 4.0 to stand out in the competition. Apart from incorporating new hardware, adapting software like Augmented Reality (AR) is essential to transition adequately. Therefore, using AR remote assistance has come as one of the most innovative steps taken by most businesses. Moreover, it is increasingly demanded by more businesses day by day.
Augmented Reality is a technology that puts information and virtual objects into the real world in real time.
In this way, the real world becomes more meaningful and readable by enriching it. With the rise of technology, AR finds usage not only by large-scale corporate businesses but also by smaller industries. Most enterprises still see it as entertainment or a marketing tool. But there are many more beneficial areas in that AR can help a business grow. The early users of AR in training, operations, sales, and services are already seeing improvement in their work efficiency. Additionally increasing customer satisfaction, and increases profits while decreasing rework and downtime.
For most industries, unexpected downtime can cause a great deal of deficiency. And maintain efficiency in times of crises like the Covid-19 Pandemic is the most vital for them. Lots of businesses face numerous challenges presented by the Covid-19 Pandemic. In times of crisis like this, technology is always fundamental for finding solutions. Most industries turn to AR technology to remain operational, and remote assistance is the most efficient way for critical work to keep going.
VSight Remote is an AR-enabled remote assistance and collaboration platform developed for enterprises. Moreover, it is ready to build and deliver solutions throughout this pandemic crisis.
It allows people to interact with others via the content displayed through the "see what I see function". The use of voice commands or drawing tools to communicate has also great importance. With VSight Remote assistance, businesses can collaborate their workforce online by removing geographic boundaries but retaining the safe distance. Using this platform through AR can help enterprises in many areas.
By using VSight Remote assistance, the workers can receive the knowledge they need from the contents created through AR and keep running operations on the factory level as well as running services on-site. Businesses can maintain the connection between employees by handling tasks with AR on the factory floor, and this way, they can stick to timelines as best as possible. In case any essential expert opinion or knowledge is needed, Augmented Reality annotations can be used to guide the employees through the process; by pointing, drawing, or marking the real-time image they see.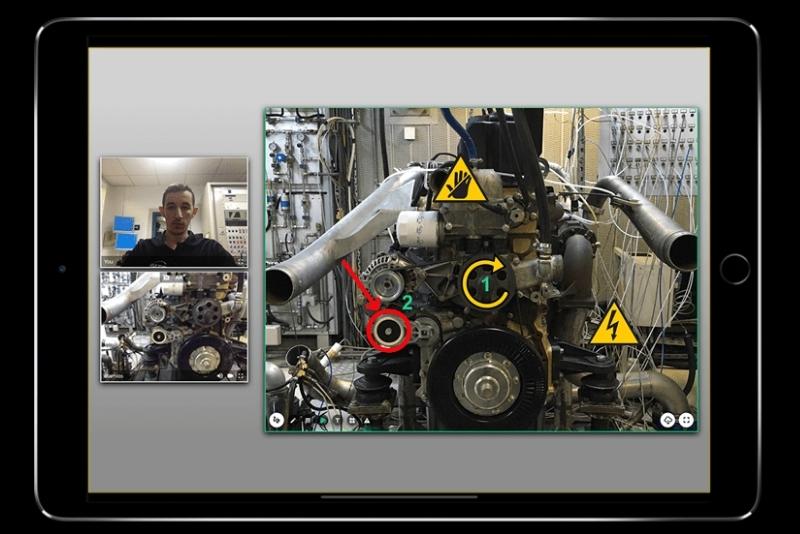 Using collaboration in distance, not only for the benefit of the businesses, but it also helps the end customers who are stuck at home during this pandemic.
Pre-pandemic, when there was a problem with a product they have sold, businesses typically needed to assign the experts on that specific problem for field service. However, with the lockdowns and travel restrictions going on, these times are far from typical, and the experts can't go on field trips as they used to. Instead, they can use VSight Remote to connect and help the customers self-assemble through AR video-chats.
Hence both the experts and customers stay home and stay safe while saving time and money. Another and the most important group that can benefit from using VSight Remote and its AR features are the workers. The workers can receive training through interactive AR experiences instead of paper-based instructions, and the training process can continue during the pandemic. So it also keeps the workers safe through remote assistance and remote training.
Covid-19 Pandemic obliged most industries to adopt new technologies like AR and changed the way of doing business. While the permanence of these changes is uncertain, since the need for them became more visible than ever, increased demand for AR and remote assistance tools like VSight Remote will no doubt continue even after the crisis ends. So, it is high time to bring AR and remote assistance tools like VSight Remote into your business to keep your services running during the pandemic and make sure it is improved and ready to take on further crises in the future.