Nowadays the wind energy industry is boosting industrial competitiveness by attracting many investments. Day by day this sector is constantly growing since wind energy is zero-carbon, produced sustainably, and consumes negligible amounts of water.
Wind Energy already is a key part of the industrial base that brings direct benefits to economic development. Companies operating in this sector are contributing to the energy transformation while providing energy costs at affordable levels. These companies together with the rapid growth are facing many challenges. At the same time are aiming to reduce them by adopting new and innovative solutions for better service. Augmented Reality (AR) as a sophisticated and cost-saving solution is being utilized by the wind energy industry. Consequently, its business applications are expanding and the demand for its utilization is increasing. Wind energy is one of the most important sources of renewable energy. In recent years it is growing as a sector. What is challenging is that wind farm projects are becoming more complex and experienced staff is in short supply.
Let's have a look at how AR is demonstrating improvements in the efficiency of operations and maintenance tasks of the wind energy industry.
The main challenges that complicate the implementation of wind farm projects are the lack of planning and communication tools. This causes non-transparent and inefficient interaction between all involved actors. AR provides Remote Support that enables all involved actors in the wind farm projects to collaborate on the same task. Wind farms are often located far from urban areas. Augmented Reality allows thousands of offshore/onshore technicians from different locations to be in direct contact in real-time with specialized experts. They are able to receive the right guidance step by step to successfully perform their tasks at critical moments.
Machines used to implement wind farm projects are quite complex and the technicians must have sufficient knowledge to succeed in their work.
Through Augmented Reality, experts' instructions help technicians with the necessary knowledge to enable the accomplishment of tasks without distractions or process interruptions that may occur as a result of checking usage manuals. Moreover, what facilitates the work of the site technicians is that Augmented Reality experienced via smart glasses ensures hands-free task performance thus increasing work efficiency.
Through AR-Remote Support experts have access to the full view of the site technicians' environment. They have the ability to give accurate instructions. Remote AR collaboration also reduces costs. Also reduces the time that experts have to spend on site visits to conduct inspections regarding the performance of site technicians.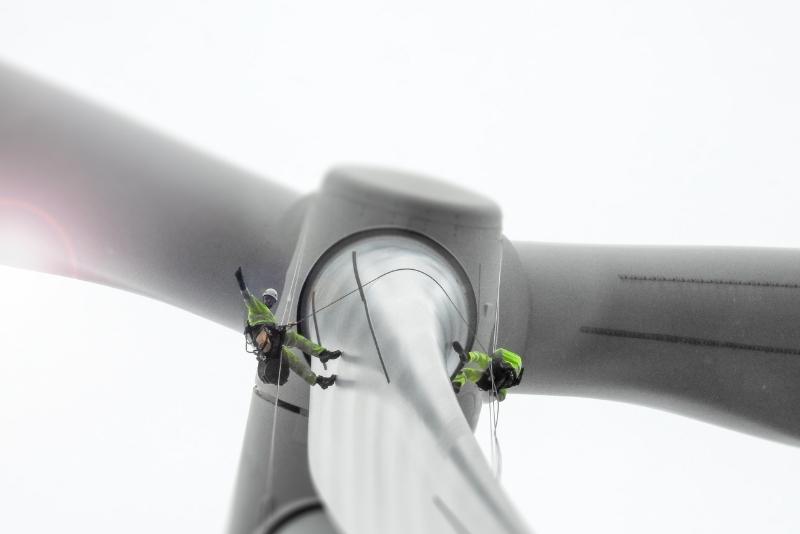 Another challenge that this sector is facing is the retirement of current experts. In addition, the lack of a specialized site workforce is another issue. Experts are using Augmented Reality to train the current workforce. This leads to a reduction of costs for expensive and time-consuming training. The utilization of technologies such as Augmented Reality provides various solutions to strengthen the workforce in labor-intensive production. Also, it ensures the site workforce with access to all needed information to complete their work digitally and in real-time.
Wind energy workers can be exposed to hazards that can result in fatalities and serious injuries during the various phases of a wind farm project.
The objective of companies operating in this sector is to provide safe and healthy working conditions onshore and offshore. Through remote collaboration, experts are able to advise site workers on potential risks. Also to provide them with opportunities to perform their tasks away from dangerous positions.
The activities associated with wind energy – from the design and manufacturing of wind turbine parts, through the transport and installation to maintenance – are being performed more efficiently through Augmented Reality, and at the same time, unexpected challenges that may arise are being eliminated. Augmented Reality offers solutions during the production phase and maintenance operations in remote areas, extreme weather conditions, and confined spaces. Augmented Reality builds a fully digital wind farm monitoring and inspection platform based on remote collaboration. The purpose of this is to reduce site visits and to improve the efficiency of work. Applications of Augmented Reality have significant potential to simplify the flow of maintenance work. Also, have the potential to provide solutions for repair processes on wind farms.